Current odds: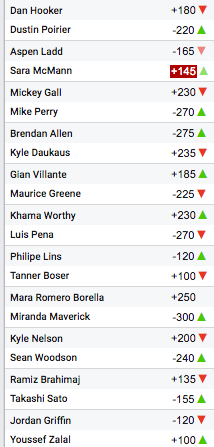 Gall might be worth a look. 
Perry is stronger, but if Mickey can get inside and get him to the ground, it's over.
No Perry fight is ever a sure thing because of the holes in his game and his tendency for poor decision making. 
From a money perspective, I usually look at the prelim chick fights because they tend to have the biggest odds disparities.  They also tend to be some of the best parlay bets to go to a decision. It is rare that the odds you see on the prelim WMMA fights are justified being as disparate as they are.  Even most of the better prelim WMMA fighters don't tend to be THAT much better than their opponents, so the chances for an upset are usually a possibility.