Michael 'The Count' Bisping is now coming into his own as an elite mixed martial artist. Fans have long heralded his natural ability and unlimited potential, and have on occasion been perhaps a little premature in their declaration of imminent domination, but now truly is the time for expectations to be raised as Bisping heads into the prime of his career.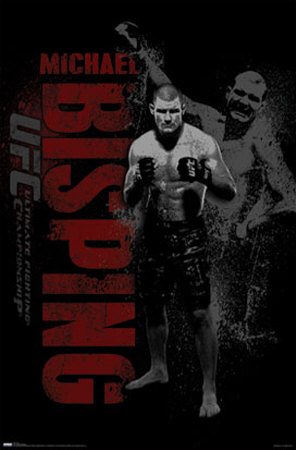 In the last twelve months he has gone on a tear, and been the most active fighter in the middleweight division, facing consistent top ten competition and showing considerable improvements each time out. Starting from scratch after the Henderson fight, he showed remarkable defensive grappling ability and a determination that saw him turn the fight around and lay a hurting on an extremely dangerous Kang. He then travelled to a hostile territory across the world and took the fight to living legend Wanderlei Silva, messing his face up and losing a coin-toss decision. In defeat, Bisping still impressed, taking Silva down on multiple occasions, keeping a torrid pace and coming ten seconds from a likely victory. Then came the Miller fight, which was an absolutely clinical display of aggressive but intelligent striking, showing an increased punching power that would've finished many lesser opponents than Miller.




This run has shown the steps forward taken by Bisping, the kind of improvements that make champions. Learning from your mistakes, realizing how to improve upon them, and then actually putting theory into practice in impressive fashion. Now is the time for the potential, the hard work and the desire to prove doubters wrong to combine together and be the ingredients that will make the next UFC middleweight champion.




First up is Akiyama. Credit to Akiyama for taking a fight like this because there aren't many fighters who have the balls to step into the bearpit and become the enemy of 20,000 passionate UK MMA fans for one night. Just ask Belfort. But this fight could be happening anywhere in the world and Akiyama would still be getting worked over. How will he cope with Bisping's size advantage for one thing? How can he even keep up with the Count for more than a round? How will he initiate his trips and throws when he's getting bullied around the cage and put on his own back? How can he win a stand up exchange when he's too slow, too predictable and too small to outstrike one of the division's best strikers? How will he deal with the roar of relentless Bisping support from the home crowd when he's used to respectfully quiet Japanese crowds?


There is no reason to dislike Akiyama, infact he is very likable and has to be respected, but he is a lamb to the slaughter in this one.
He might be a superstar in Japan, but on Saturday 16 October in London, England he is just another victim.
Expect a huge decrease in modeling assignments for 'Sexyama' after this one.
After Akiyama comes most probably Sonnen.
Talk is cheap. Sonnen is fake, Bisping is real. There is no smoke and no mirrors in the Octagon. If Sonnen wants to play his little hype game, he will lose the smack talk, he will lose the fight, and he will lose the relevancy he has made for himself.
By saying he's going to 'bury' Bisping, he just dug his own grave.
And then it's Silva v Bisping. A passing of the torch. I've long spoken about the beginning of Silva's decline coinciding with the rise of Bisping into his prime.
Bisping will do what Sonnen couldn't: beat Anderson Silva.
It's a dream fight for UK MMA fans that's been a long time coming, but it'll be worth the wait.
The UK will have its first champion and all the haters, and there are plenty of them, will be silenced once and for all when you see this image all over your TV screens:
This thread is for fans to enjoy the ride, haters to fuel the fire, and perhaps for the man himself to stop by en route to wearing UFC gold in the near future!